GBWHS Merchandise
Enjoy each day
the Green Bay Way
with our 2018 calendar!

Special Reduced Price: $5.00 until Feb. 28!

Our 2018 Green Bay & Western calendar features 12 historic photos (9 in full color) and informative captions of the GBW and Ahnapee & Western. This is a hanging wall calendar, 11 inches wide by 17 inches high. Order your calendar today! $5.00 each postpaid for all orders postmarked by Feb. 28, 2018. The price will rise to $8.00 on March 1, 2018. Click here for an order form.
Mouse over an image from the calendar for more information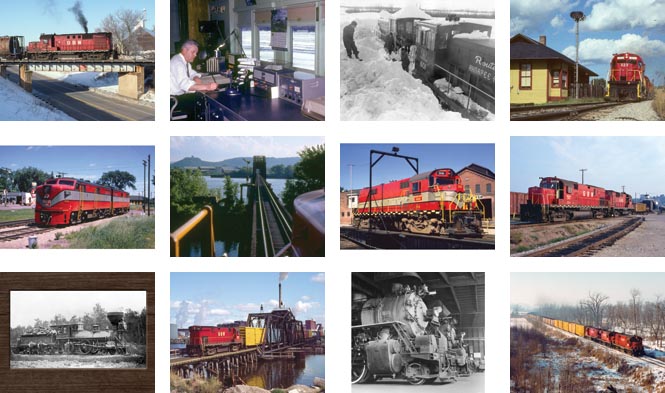 GBWHS T-shirt now available!
Available exclusively from the Green Bay & Western Historical Society! It's light grey with a red GBWHS logo on the left front above the pocket.

The back is a custom screen 4 color process photo of GBW C424 312 in its one-of-a-kind chevron paint scheme honoring past GBW President Homer E. McGee. The photo was taken by Larry Nast in February 1982, right after the 312 left the paint shop.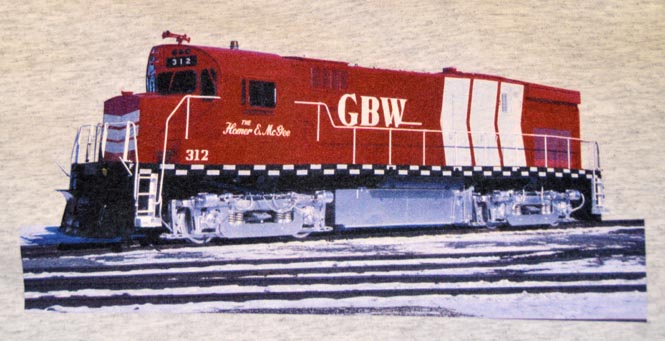 This is a high quality Gilban Ultra Cotton/Polyester Blend shirt (99% cotton, 1% polyester). It's very comfortable and durable, with minimal shrinkage. This is the same type of shirt used by Soo Line Railroad Employees Society with a long positive track record. It's available in short sleeve sizes M, L, XL, and 2XL. Prices are $23 for GBWHS members and $26 for non-members. Click here for an order form.