GBWHS Merchandise
GBWHS Model Auctions
Thanks to the generous donation of a member, the Green Bay & Western Historical Society has received several HO scale models and will be auctioning them on eBay to further the mission of the society. Click here to see these items. The auctions will begin the first week of May. Click here for more information.
GBWHS T-shirt now available!
Available exclusively from the Green Bay & Western Historical Society! It's light grey with a red GBWHS logo on the left front above the pocket.

The back is a custom screen 4 color process photo of GBW C424 312 in its one-of-a-kind chevron paint scheme honoring past GBW President Homer E. McGee. The photo was taken by Larry Nast in February 1982, right after the 312 left the paint shop.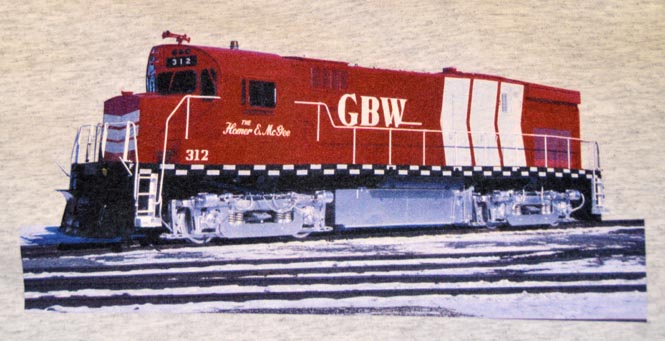 This is a high quality Gilban Ultra Cotton/Polyester Blend shirt (99% cotton, 1% polyester). It's very comfortable and durable, with minimal shrinkage. This is the same type of shirt used by Soo Line Railroad Employees Society with a long positive track record. It's available in short sleeve sizes M, L, XL, and 2XL. Prices are $23 for GBWHS members and $26 for non-members. Click here for an order form.