You and your family and friends are cordially invited to the
GBWHS 2017 Summer Meeting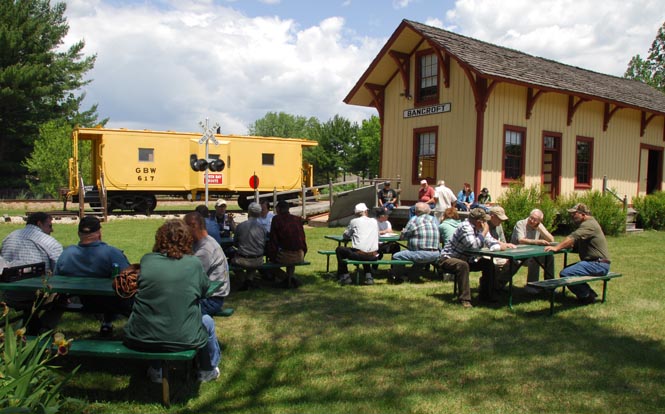 GBWHS 2012 meeting at Plover's Heritage Park, June 2, 2012. Bill Christopher photo


Heritage Park, GBW Milepost 81.4, Plover, Wisconsin
11 a.m. to 7 p.m. Saturday, June 3, 2017 ~ $15 per person

View the beautifully restored GBW 617 caboose and the Soo Line Bancroft depot!

Download and print a Summer Meeting Form (includes map)

Schedule of Events
11 a.m. to 5 p.m. Social: Meet and Greet with fellow GBWHS members, along with an open house of the GBW 617 caboose and Bancroft depot

12:30 to 1:30 p.m. Lunch: Grilled Hamburgers, Brats and Hot Dogs, Sides of Pasta Salad and Potato Salad along with Soda, Beer & Water will be served. (Additional dishes welcome!)

5 to 7 p.m. Open slide and digital show. A Carousel projector will be provided. Slides will be limited to one 80 slide carousel for the first round; after everybody has had an opportunity to show slides, additional slides may be shown.

GBW and other Railroad Employees and Retirees and their spouses attend and eat for FREE as a Thank You for your many years of safely working and for continuing to share your memories of the GBW with the organization and others.

Click here to download and print a meeting application form, which includes a map. We hope to see you there!
Visit our booth at these upcoming railroad shows!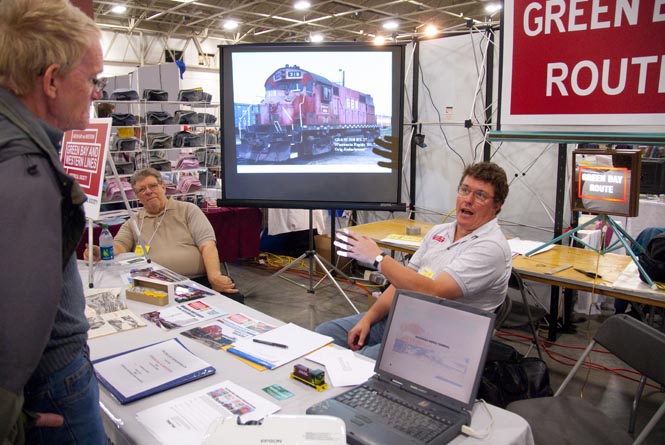 Mark Mathu (right) and John Hagen talk to visitors at Milwaukee Trainfest, November 10, 2012. Bill Christopher photo
Saturday-Sunday, November 11-12, 2017: West Allis (Milwaukee), Wis.
Trainfest, Wisconsin Expo Center
Click here for more information.
If you plan to be at one of these shows, please stop by and visit your historical society! Mark Mathu is coordinating our society's presence at train shows and merchandise sales — but this is certainly not a one-man task. If you are interested in helping at any of these shows, please e-mail him at
shows@GBWHS.com
. The GBWHS belongs to all of us, and with all our help we can make it the best possible.
The GBWHS's mission at shows is:
1) Service to our members – provide information on your membership, magazine, and upcoming projects.
2) Disseminate information about the GB&W to others who are interested and make them aware of the GBWHS.
3) Merchandise sales.
4) A gathering place for GBWHS members to stop by, visit other members, discuss their modeling and research projects, and rest a spell.